Culligan of Lexington
You could give your people Culligan Water.
Your Lexington Water Treatment Experts
We are Culligan of Lexington, your water technology experts proudly serving the Midlands and Central Savannah River Area (CSRA). Our dealership specializes in providing water softeners, reverse osmosis systems, water coolers, bottled water, water filtering and softener salt delivery service to area homes and businesses.
CULLIGAN OF LEXINGTON HISTORY
From all of us at the Sanders Family Culligan Dealerships, thank you for visiting our website. We hope the information you find here helps you make an informed decision when choosing a company to improve your water. A consumer's decision to have us take care of their water is a wise one. Here's why:
We have extensive water treatment experience. In addition to classroom training, treating and delivering water requires experience - our staff has over 80 years of combined experience! Our business has helped over 10,000 families and businesses with their water needs, since 1982.
We're locally owned and operated. As we all know, "lifetime guarantees" only have worth if the company is there to back it when the time comes. We live and take an active role in the communities we serve and see our customers regularly. This provides us extra motivation to make sure the customer's needs are met.
We invest in our people so they have the ability and motivation to take care of our customers. We invest over $20,000 annually in training and finding better ways to serve you.
We install reliable equipment. In a given year we perform repair service calls on approximately 8% of our total installation base. Approximately 80% of the Culligan units installed in our markets are over five years old. We install equipment that is reliable and lasts.
Please
contact us
with any questions you may have. We look forward to hearing from you soon! - The Sanders Family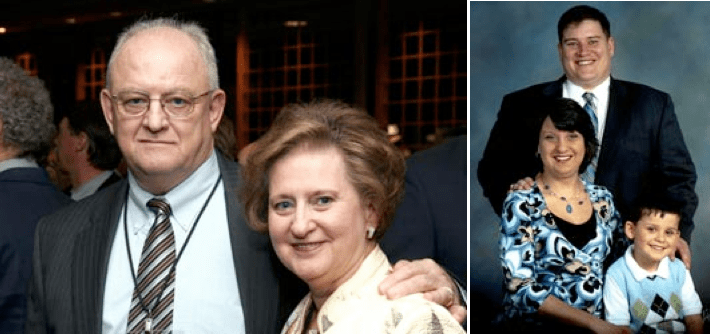 Left: Jim Sanders, past owner and president of Culligan Lexington with his wife, Clyde Sanders, who was secretary and treasurer. Right: Ricky Sanders, Vice President and General Manager of the Culligan Lexington location with his wife Julie and son Colin.
CULLIGAN OF LEXINGTON EMPLOYMENT
Culligan of Lexington is always looking for friendly, hard-working individuals to fill a variety of positions. An equal opportunity employer, we offer ongoing training, and competitive compensation and benefits packages.
CULLIGAN OF LEXINGTON COMMUNITY INVOLVEMENT

---
Reviews for Culligan of Lexington
---
04/18/2021
Love their system. $$$ but worth it!
---
09/19/2019
Love their willingness to support our community.
---
---
---
---
---
Hey Culligan!
Hours
Monday: 8:00 AM – 4:30 PM
Tuesday: 8:00 AM – 4:30 PM
Wednesday: 8:00 AM – 4:30 PM
Thursday: 8:00 AM – 4:30 PM
Friday: 8:00 AM – 4:30 PM
Saturday: Closed
Sunday: Closed
Areas We Serve
Abbeville, Aiken, Alcolu, Allendale, Appling, Augusta, Avera, Ballentine, Bamberg, Barnwell, Bartow, Batesburg, Bath, Beech Island, Bethune, Bishopville, Blackville, Blair, Blythe, Blythewood, Boneville, Bradley, Calhoun Falls, Camak, Camden, Cameron, Carlton, Cassatt, Cayce, Chapin, Chappells, Clarks Hill, Clearwater, Cobbtown, Columbia, Cope, Cordova, Crawfordville, Dalzell, Darlington, Dearing, Denmark, Donalds, Eastover, Edgefield, Elgin, Elko, Elliott, Elloree, Evans, Gable, Gadsden, Garfield, Gaston, Gibson, Gilbert, Girard, Gloverville, Gough, Gracewood, Graniteville, Greenwood, Grovetown, Harlem, Hartsville, Hephzibah, Hilda, Hodges, Hopkins, Horatio, Irmo, Jackson, Jenkinsville, Johnston, Kershaw, Keysville, Lamar, Langley, Leesville, Lexington, Liberty Hill, Lincolnton, Little Mountain, Louisville, Lugoff, Lydia, Lynchburg, Manning, Martin, Matthews, Mayesville, Mc Cormick, Mesena, Metter, Midville, Millen, Mitchell, Modoc, Monetta, Montmorenci, Mount Carmel, Neeses, New Ellenton, New Zion, Newberry, Ninety Six, North, North Augusta, Norway, Norwood, Nunez, Olar, Orangeburg, Parksville, Peak, Pelion, Perkins, Pinewood, Plum Branch, Pomaria, Prosperity, Pulaski, Rayle, Rembert, Ridge Spring, Ridgeway, Rion, Rowesville, Saint Matthews, Salley, Saluda, Sardinia, Sharon, Shaw A F B, Siloam, Silverstreet, Springfield, Stapleton, State Park, Stillmore, Summerton, Sumter, Swainsboro, Swansea, Sycamore, Thomson, Tignall, Trenton, Troy, Turbeville, Twin City, Ulmer, Vance, Vaucluse, Wadley, Wagener, Ward, Warrenton, Warrenville, Washington, Waynesboro, Wedgefield, West Columbia, Westville, White Rock, Whitmire, Williston, Windsor, Winnsboro, Wrens
Review on Facebook
Learn more about how you can have better water.
Latest
Blog Posts
Clean water is essential for life. Find out what's in your water with a free water test from your local
What's in your water? Find out with a free water test from your local Culligan Water expert. Free Water Test

Trucky Thompson
- Culligan Customer